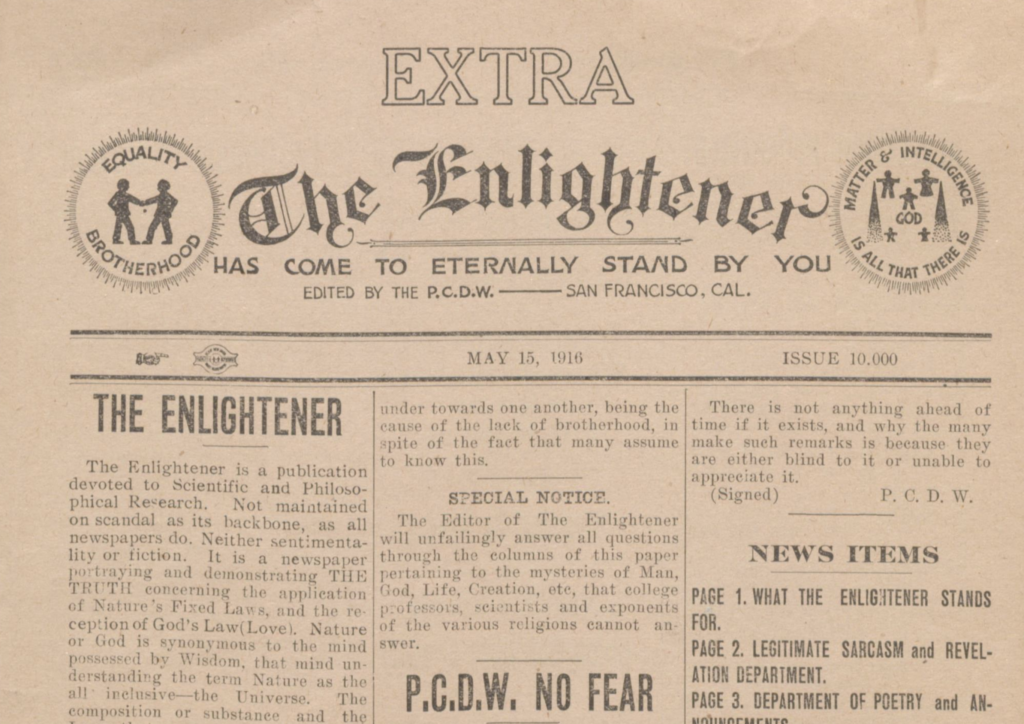 You know how it is. You're coming to the end of your degree program and you've got a bad case of research overload. By now, research is down to typing a random keyword in Google and a desultory poking of the Enter button.
Enlightener. That was the word I typed in the search box.
Up popped a reference. A single reference. I sat up and paid attention. The University of California Riverside Library had a copy of The Enlightener, dated 1916! The Enlightener was a monthly newsletter that William and Lucille Riker produced when the Perfect Christian Divine Way was still headquartered at 657 Hayes Street, San Francisco. (The building was always a private home, and still is.) The I.B. Fisher collection contains a single copy dated December 15, 1918, and I had never seen another.
This was a find! I got into the library system and eureka, they allowed requests for duplication and scanning at a dollar a page. So I put in a request.
A few days later, the librarian got back to me. Which issue did I want? They had FIFTY-TWO of them, beginning in May 1916 and going into 1920.
I nearly fell off my chair. I think I may have screamed. After some backing and forthing, which may have included an offer to drive down there and do the scanning myself, we came to a deal. She would make her way through her 2,500-page backlog of duplication requests, and slip my issues in ten at a time. Bless this librarian. Whatever the university is paying her, it isn't nearly enough.
So far I have 20 issues of The Enlightener, which came out on the 15th of the month beginning with that May 1916 issue. As it turns out, among the reams of William Riker's "Wisdom" I have in typescript, there may be a number that are drafts for pieces in The Enlightener. But far more important for my purposes is that in each issue a poem by Lucille Riker is published, usually on Page 3. So far there are 18 poems I've never seen, and two I already had in draft or photocopied form with no indication of where they came from. Now I know.
Research. Sometimes you expect a nugget, and thanks to wonderful librarians who are superb at their chosen careers, you get a landslide.