Luckily for Riker, by February 1928 Mrs. Rosencrantz had been picked up for passing bad checks, and was eventually sent to San Quentin as a habitual offender. The love balm suit was transferred to Santa Clara Superior Court in January 1930. By then, Mrs. Rosencrantz had filed a number of other lawsuits against Riker, keeping the newspapers busy for months.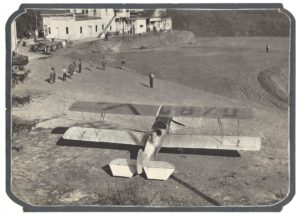 "Everybody's Girl"
Lucille maintained her position as loyal, supportive wife throughout that stormy year. But in the privacy of her own papers, it's possible she allowed her true feelings to show. In the archives at the Beinecke Library at Yale is a collection of Lucille's poetry that she sent to a music company in 1941. With the passing of a decade or more, perhaps she felt she could finally express herself, such as in this unpublished song lyric entitled "Everybody's Girl." Aside from the allusions to the "girl" being sexually promiscuous, could "on the wing" be a veiled reference to a certain red-headed aviatrix?
She's everybody's girl

She's to every man a pearl,

Sweetheart to all beneath the sun,

She's in love with every man

In this great big perfect plan,

For to her all men are one.

And while she flits and flutters,

From palaces to gutters,

She smiles for what smiles will bring,

In no one place she'll tarry,

Least [sic] she'll be asked to marry,

She's safe to smile when on the wing.[1]
A person can only wonder why Lucille stayed with Riker when he put her through so much public mortification. Perhaps it was a trade-off. She looked the other way during his affairs and stood by him in court. And in return, the disciples looked up to her as "Mother Lucille," she had a comfortable home, and most important, she was free to exercise her excellent business sense to make Holy City a much greater success than it would ever have been without her.
---
Shelley Bates is the author of 42 novels. She writes steampunk and contemporary romance as Shelley Adina; as Adina Senft, writes Amish women's fiction; and as Charlotte Henry, writes Regency romance. She is currently working on her PhD in Creative Writing at Lancaster University in the UK. Her dissertation is a historical novel entitled The Comforter, about the tumultuous events of 1927–28 in Holy City.
[1] Box 16, Folder 294, Paul Kagan Utopian Communities Collection. Yale Collection of Western Americana, Beinecke Rare Book and Manuscript Library, Yale University.